Oscars 2018: List of Worst Dressed Stars of 90th Academy Awards
List of Worst Dressed Stars of 2018 Oscars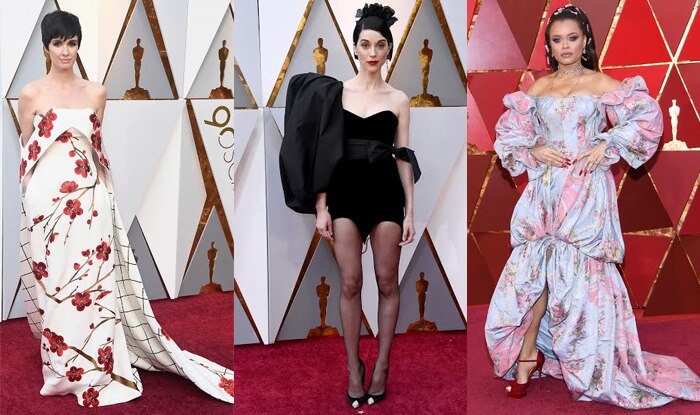 The red carpet of Oscars is THE red carpets for celebs across the world. A lot of efforts are added by stylists to make sure their celeb client look the best. Like every year, this year too, many stars looked like a dream in their high-end designer dresses. From Nicole Kidman in elegant Armani Prive gown to Jennifer Garner in royal blue Atelier Versace to  Margot Robbie in Chanel Haute Couture, many celebs looked their best. But some failed to impress and that's why few celebs were castigated by the fashion police and ultimately featured in the list called 'Worst dressed at Oscars'. Oscars 2018 Pay A TributeTo Sridevi And Shashi Kapoor
Few actresses went for strange choices and the same led to fashion faux pas. Few stars like Salma Hayek who are known for their sartorial sense picked unconventional choices and the same came as a mega surprise for fans as well as fashion critics. Let us have a look at some of the style offenders of Oscars this year.The Shape of Water, Blade Runner 2049, Dunkirk Win Big At Oscars 2018 – See Winners List
Salma Hayek
Salma Hayek who is usually well dressed pulled off sequinned Gucci outfit that looked outdated. The diamond cage didn't help to amp up the look.
Kelly Ripa
Kelly Ripa looked perfectly fine from the front angle but the other angle captured the very weird part of the gown which killed the whole look. As we are talking about the showy and colorful bows on the back of the otherwise chic dress.
Paz Vega
Vega's dress was too huge for her and those hands going down to the pockets also looked very unchic. The patterns and color scheme did little to elevate her look.
Andra Day
Singer Andra Day who also performed at the ceremony wore a very bizarre looking dress. The not-so-ideal color scheme, as well as the unflattering shape of the dress, led her to this list.
Zendaya
Zendaya's outfit was unhappening at many levels. Color, shape and weird pattern are the reasons why she missed the fashion memo for the Oscars.
St Vincent
St Vincent hit a low note with her bizarre dress. The oversized sleeve and swimsuit like shape of the dress not really helped her to look outstanding.
Apart from these other style offenders were Emma Stone who wore pant and blazer combo which we think was too casual and another name is of Viola Davis who looked very bright in her candy floss pink simple gown. What are your views about their awkward sartorial failures? Let us know in the comments below.